Gearbox Software is well-known for it's DLC, especially with the Borderlands series. Borderlands 1 had several good add-ons, including The Zombie Island of Dr. Ned. Each is lengthy and well executed. Captain Scarlett is no exception.
Rather than following some games and just adding a little section to the map, this DLC adds an entire new part of the planet with it's own location network. Most of the side missions involve traveling from place to place or finding extremely trolling treasure chests, but these are reduced to a mere passing thought from the story mission.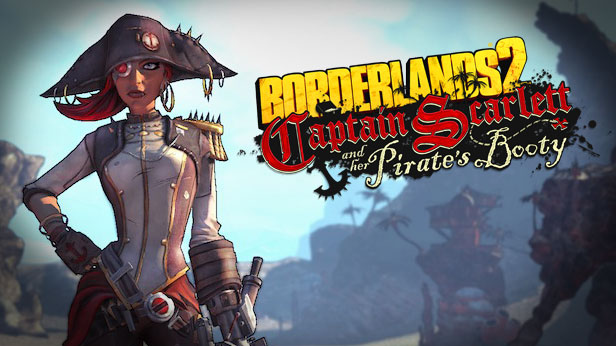 Players are given a new location you can fast travel to called Oasis. It's not how you would think of a place named Oasis since it's a barren desert filled with gigantic skeletons of fish and sand skiffs that hover above the ground in order to travel. This doesn't subtract from the setting though, since it's populated heavily by pirates and sand worms. More than enough to keep your attention, especially once you get to the Cursed Pirates. I won't tell you much about the enemies in this DLC, but if you come across these pirates hit em hard and fast.
Once you do a few side missions in Oasis, you earn yourself a sand skiff, and the story begins. Your first task is to find Captain Scarlett. You need to travel to a new location so take that skiff out for a spin. Controls are awkward and it takes damage quite easily, so make sure you have a pilot who knows what they are doing. Scarlett's ship is a standard pirate ship, complete with a crow's nest and a plank to walk.
Scarlett tells you about a legendary treasure room located somewhere in the area, but you need to track down the pieces of a compass that points the way. Several missions later (ranging from tedious to why?), you have the compass and now must make your way to a lighthouse that will point the way. A very large creature guards the "X", named the Leviathan. Once you get past this boss, the legendary treasure is yours. Sort of. Credits roll right after you reach the room. Troll game is troll.
Still, it's a very fun DLC that provides around 5-6 hours of amusement. For $10 I'd say it's worth the price.